Portugal had finally draw tie with Samba Kings, Brazil. Nonetheless, both of them still make it to the round 16, the scarier part was the losing team shall be eliminated in the round 16. Despite the match drew 0-0 which has proven that Portugal had defended well in the battle. I fucking hate C.Ronaldo being the captain and he did not get any ball near to a fucking goal post. It should be Simao or R.Carvalho being the leader for their country. Who's that fucking retard chose him to be the captain?
The professional had concluded the statistics of ball possession during the match, I don't fucking understand why they underestimate Portugal by just merely giving away a figure of 30%-40%.
Portugal's ball possession was 39% for the maximum and 32% for minimum. Meanwhile, Brazil has got 60% to 70% figure. Yet, Portugal had been playing well although there were some missing passings to their members.
However, I was drawing my own theory as well and the real question of Portugal's strategy:
*If Portugal could defeat DPR Korea with a 7-0 but why Portugal couldn't shoot a goal during the Ivory Coast's match? Instead they drew a 0-0 and there weren't much effort in that game as well.
*However, Brazil could have easily pulled down Ivory Coast with a 3-1 result and also DPR Korea with 2-1 as well.
*This also proven DPR Korea had the level equally with Brazil but a shameful lost with Portugal by 7-0.
Then, I begin to make comparison all of Portugal's match against Ivory Coast, DPR Korea and Brazil.
You see, the match between IC, the efforts Portugal gave wasn't 100% and they were running as slow as they could to defend for a draw instead of winnings. They actually had lots of opportunities.
It's either they received a wake up call upon the draw with IC or they were shielding their strengths. During the battle with DPR Korea, so many efforts and tricks were premiering resulting a 7-0.
If both of those matches they've won, they could have move to no.1 in Group G.
My fear came for Portugal when they were against Brazil. Surprisingly, they concluded a draw with nil-nil. Despite Brazil being rank world no. 1, the defense from Portugal were as good as a fortress.
NO MORE ASSUMPTIONS:
The
fixture of the round 16
which is by eliminating the rival regardless of draws. Portugal is now facing Spain in the KO STAGE! Boohoo! Argh... Spain should have just remain as runner up instead of moving up to first place. Now, they have to face Portugal, world ranking no. 3 vs world ranking no. 2. If Portugal eliminated, I'll definitely cry. Really fucking frustrating. If Spain eliminated, I don't feel like watching FIFA 2010 anymore. Can't they switch place and battle against other countries instead of their very own neighbour country?
Portugal did not expect Spain to top their own group and now they have to face each other.
Here's something I don't understand why they change the color of it, after all, it's unique and attractive.
Year 2006's jersey colors. Maroon.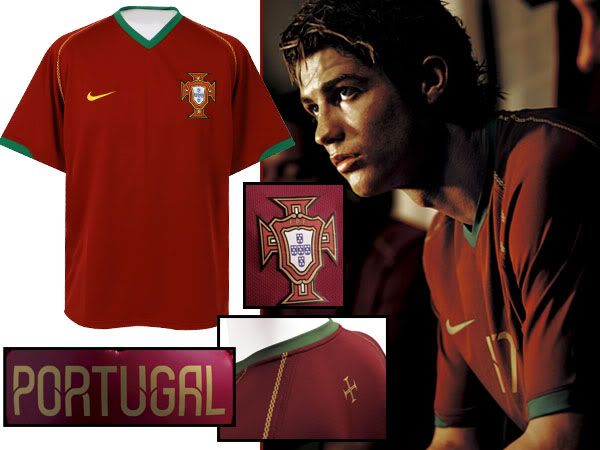 The current jerseys.
Completely Red: Home
White with vertical stripes (green and red): Away
The white one ain't that normal looking but the red one looks like England's away jersey.
Something adorable makes me laugh and I swear it's unbelievably adorable and silly especially Messi....
Enjoy
Peter Crouch is actually handsome and they kept reserving him at the bench when they praised he's a good footballer.
Adorable isn't it?
Go Matadors!