It was devastating to know that Portugal had lost the match and what's worst is that you're watching it live and you could do nothing about it. The part where salt to wound was both of my favorite teams are playing amongst each other, Portugal vs Spain.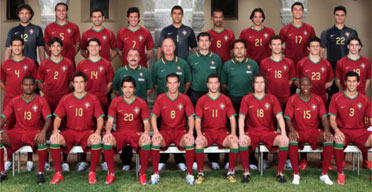 They got players playing for renown football club in the world yet what they lack of is what we call Lady Luck.
Firstly, they were placed in the same group with Brazil. Secondly, they have to face Spain, their neighbor country out of their expectations. Maybe I do sound like a sore loser in denial but that's the truth.
C'mon the goal strike by Villa was just merely by luck and of course, the Portugal's GK had defensed it well throughout every shot. If it wasn't for Villa's goal, Portugal could have maintain nil-nil with extra time and had fat chances to move forward with the penalty shots.
Now, Portugal's elimination feels like the end of World Cup and it made me feel demotivate to watch WC anymore. *Sigh* After for my enthusiasm and cheers for Portugal, why do you have to end your journey shortly?
I don't want to point any blames to the team (except C.Ron for being one man show) but rather lift their heads high to home. They did their best but luck factor wasn't on their side all the while. They played good games but only made wrong predictions and assumptions (referring to coach). I wanted to punch the fucking referee at his face for ignoring all the fouls made by Spain.
What happens if Simao or Carvalho lead the team?
Nonetheless, I'm proud for Portugal for making this far. They've gone through rainy weathers and unpredictable consequences yet they still made it far. A tribute to Portugal, their departure is a loss to all viewers and spectators. Forca Portugal!
Now, I'm rooting for Argentina and Spain all the way. Messi, with love.
P/S: Should check out LV's website, Pele, Maradona and Zidane are featuring in the WC fever for LV. Footballers of the century.