*Jeng Jeng Jeng Jeng*
Introducing the new CHAMPIONS for WORLD CUP 2010:
LA ROJA! EL MATADORS!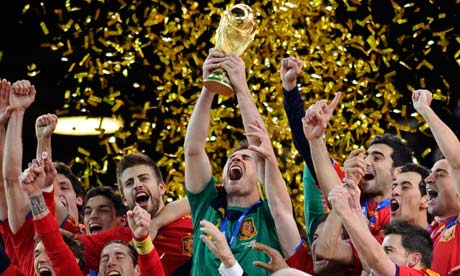 It's SPAIN!
Their fair play has made them through the quarter finals, semi finals, finals and NO.1.
Without a doubt, a wake up call is deserve to be given to Spain after a shocking defeat by Switzerland at the group H tournament. Despite the small loss, they managed dribble all the way through the very last match.
Although Espana didn't win big in every matches but they manage to conceive winning for every match after the first lost.
No, we are not gonna point out who's the ultimatum hero of the team but everyone did their part very well. Ball possessions are roundly fine, strategies fit in well against the contender and clear collaborations.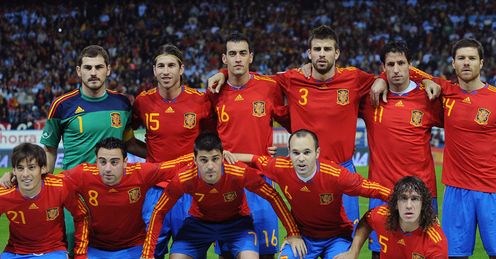 Coach did give a prestige lessons for his pupils.
Defenders did form a good wall.
Midfielders did channel the ball smoothly.
Strikers did create every artistic opportunities.
Goalkeepers did play the role of the last knight in order to protect the forte. He also played the role of captain firmly to make sure his players stay firmly on the ground.
They might have broken certain rules yet conceiving a winning till the very last minute has bring tears of joy, laughters of shock and smiles of victory that created the beautiful history of FIFA. That's how Espana brought the end of the four years journey wonderfully.
Now, let's all sleep in peace for all this exciting month has brought us down weary yet harmonious coz FOOTBALL is a RELIGION to all regardless of human's forms.
We shall see you again in Brazil, 2014. (I mean the World Cup).